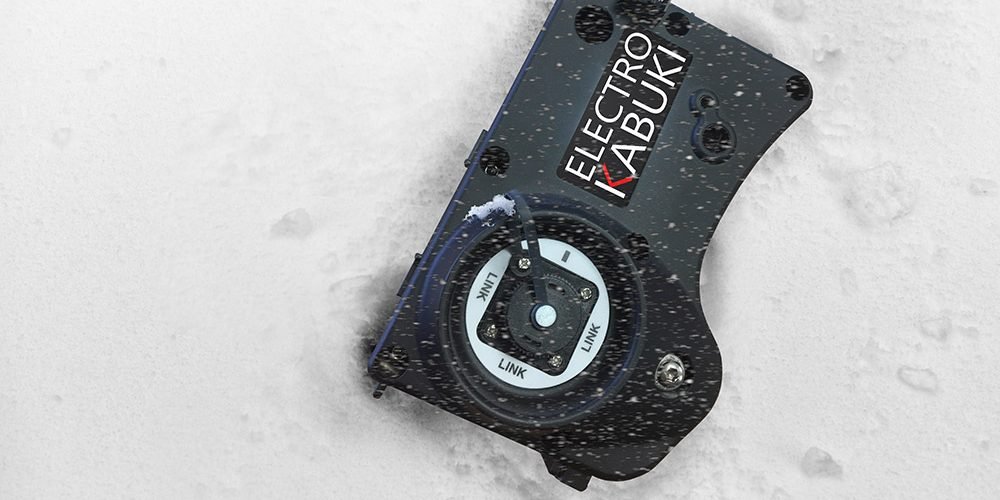 Absolutely no problem if it rains on your parade.
Yes, unlike other theatrical reveal systems, Electro Kabuki dropper modules and cables are fully weatherproof.
We use military-grade, sealed connectors in the design, and industrial levels of weatherproofing for the dropper module housing – the action-end of an Electro Kabuki system (that's one of them, above, lying in the snow to prove its hardy credentials).
It means you can rig Electro Kabuki outdoors and use it dependably time-after-time, come rain or snow. No more fiddling with plastic bags as clouds loom over your festival. The show will go on.
In fact, almost every Electro Kabuki part is weatherproof. Only the DMX firing box is not fully water-resistant – and that's entirely down to the industry-standard connector we have to use for DMX compatibility. So you'd be wise to keep that box under cover. Your special effects operators might appreciate that too.
We know that a great many of the most impressive staged drops and reveals take place outside. Just look back at some recent blogs: the Asian Martial Arts Games in Turkmenistan and the Dance Show at Cedar Point in Ohio. Our professional event staging and rigging customers are always setting up outdoor events like festivals, concerts and sporting events. They need weatherproof technology.
However, not all theatrical drop systems are designed to work flawlessly outside whatever the weather. Fortunately for the staging industry, Electro Kabuki is