Welcome to Electro Kabuki
It's the global high-tech solution you need to guarantee a faultless reveal or kabuki drop for your staged events. Misfires, faulty releases and snagged drapes are a thing of the past. Electro Kabuki is easy to rig, even easier to operate and works flawlessly, first time, every time.
Electro Kabuki is always in stock for immediate delivery worldwide.
Press the fire button. Watch all your Electro Kabuki dropper modules release simultaneously. That's it!
Optimised Performance
Electro Kabuki modules can operate in a single circuit or in two separate circuits, all from one controller. Even with the standard firing box, you can drop both circuits together if you wish. Want more sophistication? Then use the DMX firing box for fast, easy and reliable automation.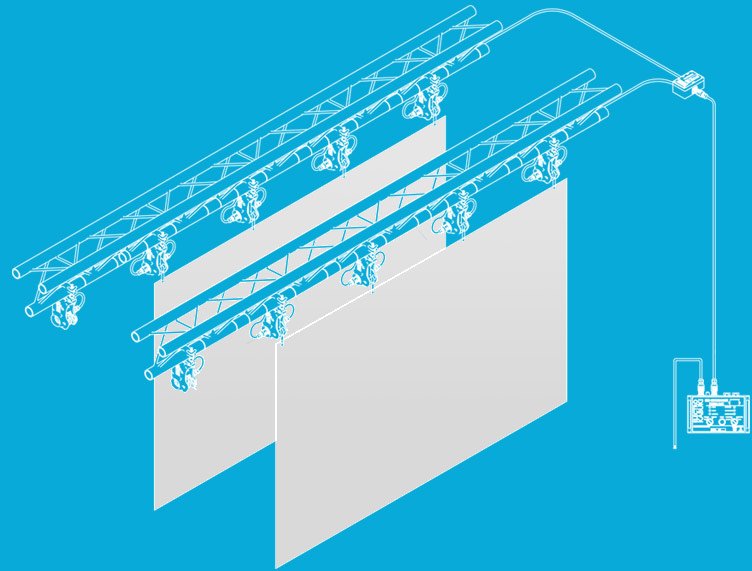 Diverse Configurations
There's almost no limit to the size and scale of the kabuki reveals you can manage with the Electro Kabuki system. Popular configurations range from a simple basic drop with manual push-button firing, to multi-string phased drops with synchronised DMX automation. Or how about dropping a cargo net?
The new EK Starter Packs
Two new EK Starter Packs are now part of our standard product lineup - they provide everything you need for a simple kabuki drop in an easy-to-use kit.
Keep up with our news.
We'd like to keep you informed but won't bombard you with emails.