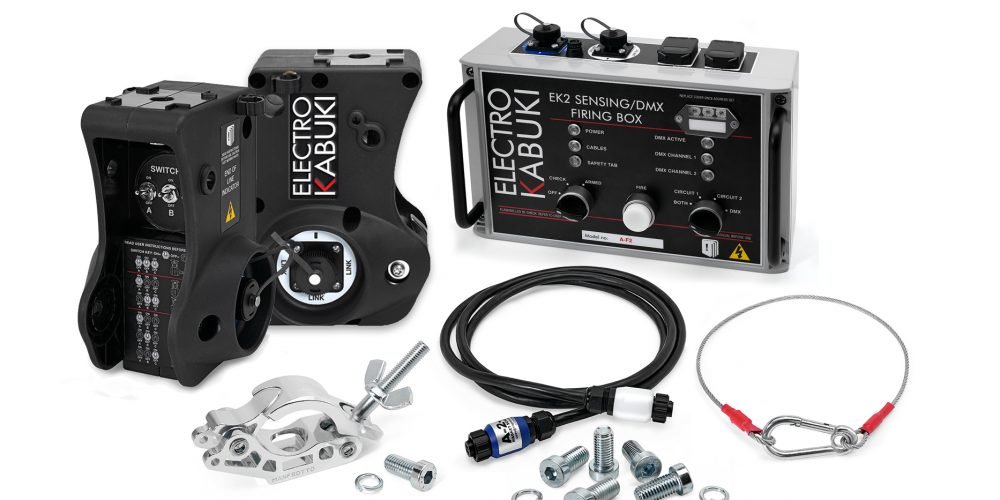 Get DMX Automation from an EK Starter Pack
Since its introduction a couple of years back, our Basic EK Starter Pack has been pleasingly successful in helping to introduce staging professionals to the benefits, and rock-solid reliability, of Electro Kabuki.
For many of these people, being able to prove the dependability of the EK system before deploying it in anger at a high-profile event was key. And our special Starter Pack pricing means a minimal investment, which makes the whole thing affordable. It's worth mentioning that a very high percentage of Starter Pack users have gone on to extend their EK systems significantly.
We began to notice an increasing number of EK enquiries asking about DMX control. It's clear that some people need this automation option from the outset. As it turned out, that proved to be the case in many instances, but there was another motivator…
More than automation
The DMX firing box also adds extra functionality. Yes, you can get automation by connecting it to your DMX lighting panel or control console. But you also get an indicator, right there on the firing box front panel, telling you that the connections you've made with the link cables are good. In fact, that's what the end-of-line indicator is for. As well as that electrical confirmation, there's a mechanical verification too. Any EK module that has its safety tab in place – perfect for test drops without actually dropping – flashes a bright blue LED on the firing box. That's an instruction to go and check the modules; each has a blue LED on its underside. Steady-state means all is well: the safety tab is off. The one that's flashing is the one with its safety tab still in place. Not what you want when you're about to unleash the big reveal!
So we have now created a DMX/Sensing Starter Pack. Again, it offers discounted pricing to make the journey into the reliable world of EK easy to justify. And the DMX Firing Box is included in the Pack – so automation via the DMX protocol and extra verification features are a reality, even in this modest 'starter' system. It's available from the new EK website now and is already proving popular. Take a look: https://electrokabuki.com/get-a-quote
What's in the kit?
What do you get in the new Starter Pack? Obviously, a DMX/Sensing Firing Box. Four EK modules, two wired as Circuit 1, the other two as Circuit 2. An end-of-line indicator, which is required for feedback of electrical continuity by the DMX protocol. A power cable. A half-metre cable to link the indicator to the final EK module. Three two-metre link cables to interconnect modules. And a 20-metre link cable to run from the Firing Box to the nearest EK module. Plus, five Manfrotto clamps to make rigging really easy.
Those familiar with the EK system will know that the two types of EK module supplied means that phased two-stage drops, and flop & drop reveals, are achievable. Not bad for an entry-level system. Jump to the EK System Configuration page to find out more about these reveals: https://electrokabuki.com/configuration
Special Starter Pack pricing to get you going
Like the Basic Starter Pack, our special pricing for the DMX Starter Pack represents a significant saving over buying the parts individually. It is priced in the UK at just £2,135.00. So you essentially get the four EK modules for free! It's the same deal with our Basic Starter Pack: for £1,250 you get the Basic Firing Box, cables and clamps, again meaning no charge for the four EK modules.
Due to this special pricing, our Starter Pack offer is strictly limited to one per company. Bear in mind that these prices are subject to VAT in the UK and taxes where applicable in other regions. We calculate the exchange rate for export shipments at the time of order.